About Us
South Farnham School stands on two sites sitting, as the name suggests, south of Farnham. The infants are taught at the Bourne site and the juniors in Menin Way.
South Farnham Juniors
South Farnham School stands on an attractive 7 acre site. It was built to a high standard in 1938 as a girls' Grammar School and has been significantly modified for younger children in recent years.
The accommodation includes 5 libraries, a music block and 8 practical rooms. There is both an assembly hall, two studios, gymnasium, cloakrooms and changing rooms. The 7 acres of play area include 3 multi-use games areas, an outdoor gym, grassed sports fields and pavilion.
South Farnham is a Primary School taking pupils at the junior site in the age range 7 to 11. We currently have 577 children on roll at the juniors. They come from a variety of local schools.
Parents are able to state a preference for this school for their child irrespective of where they live unless the school is oversubscribed.
Most of the children move on to Weydon Secondary School when they leave at 11 years of age, although once again parents have the right to choose any secondary school.
We maintain close contact with Weydon to preserve continuity in our children's education.
South Farnham Infants
The original Victorian school building dates from 1875. Significant extensions have been added over the last 12 years including a new hall which was completed in 2014. The school currently incorporates 9 classrooms, a library, several small rooms for group work, and a large studio used for dance, drama etc. Assemblies and activities such as P.E. and music are held in the new hall, which is also used at lunchtimes. School meals are freshly cooked on the premises. We currently have 271 children on roll at the infant site.
The school has extensive grounds which include a dedicated Early Years play area, a large multi-use games area, an adventure playground, a grassed playing field and a Sensory Garden. There is also a small produce garden where the children can grow vegetables. We have an outdoor heated swimming pool, which is safely fenced off beside the multi-use games area, and this is used for lessons during the summer term.
Our 2012 OFSTED inspection stated:
This is an outstanding school. Everyone is expected to succeed and each individual, whether child or adult, does his or her utmost to rise to the high expectations

OFSTED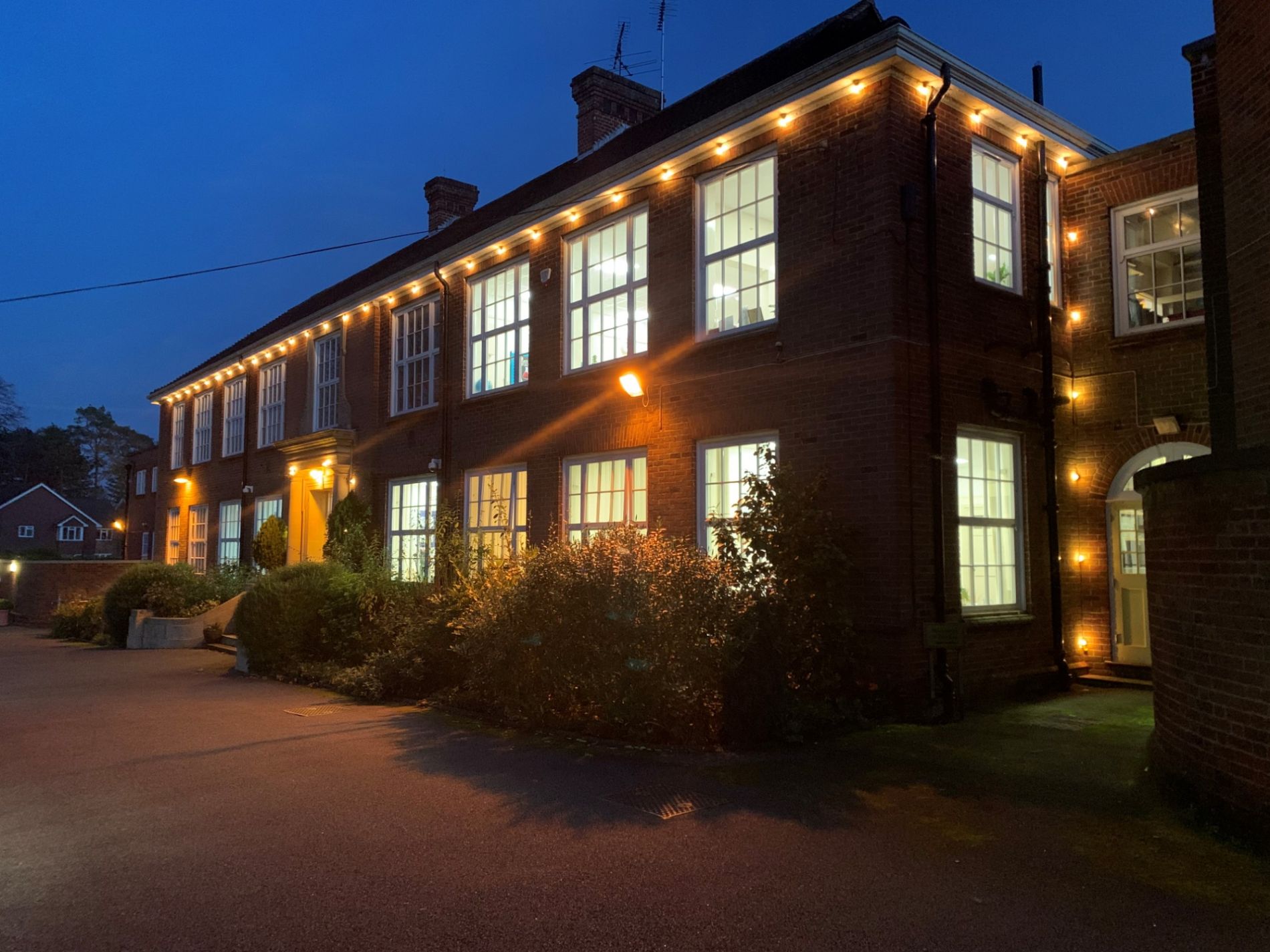 In September 2000 South Farnham became a Beacon School, which meant that following a rigorous programme of inspection, the school was asked by the government to share good practice with other schools and teachers to help to raise national standards in education. Following the end of this national initiative, South Farnham School has continued to support schools across the country and to take a leading role in national developments. In 2009 we became a National Support School, in 2011 a National Teaching School and in 2020 a Teaching School Hub. For many years we have been one of the highest performing schools in the country and nationally recognised as a leading school. For further information on SFET Teaching School Hub visit www.tshubsfet.org.uk or click on the link at the top of the website page.